Fraser Island Romantic Hideaway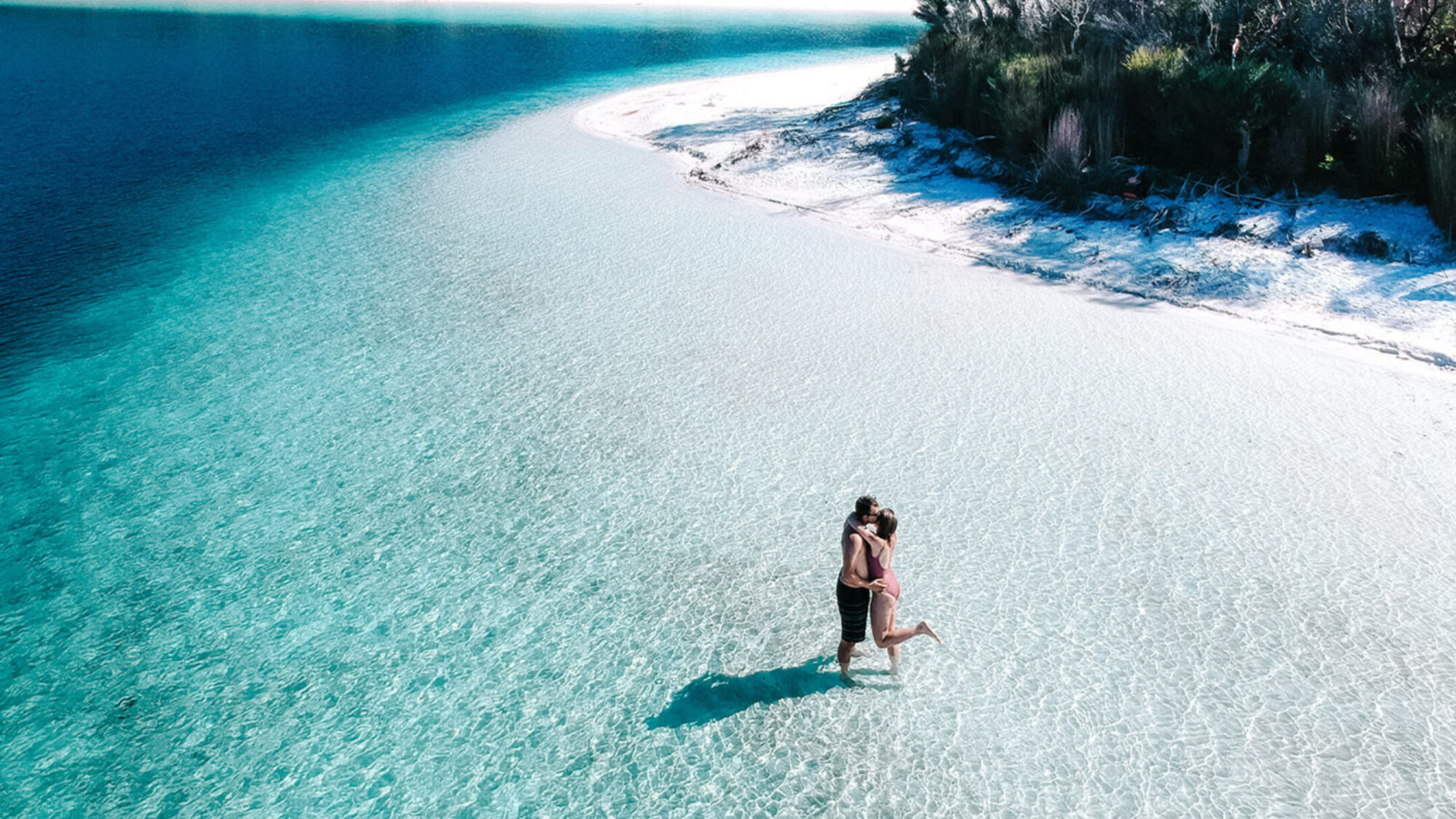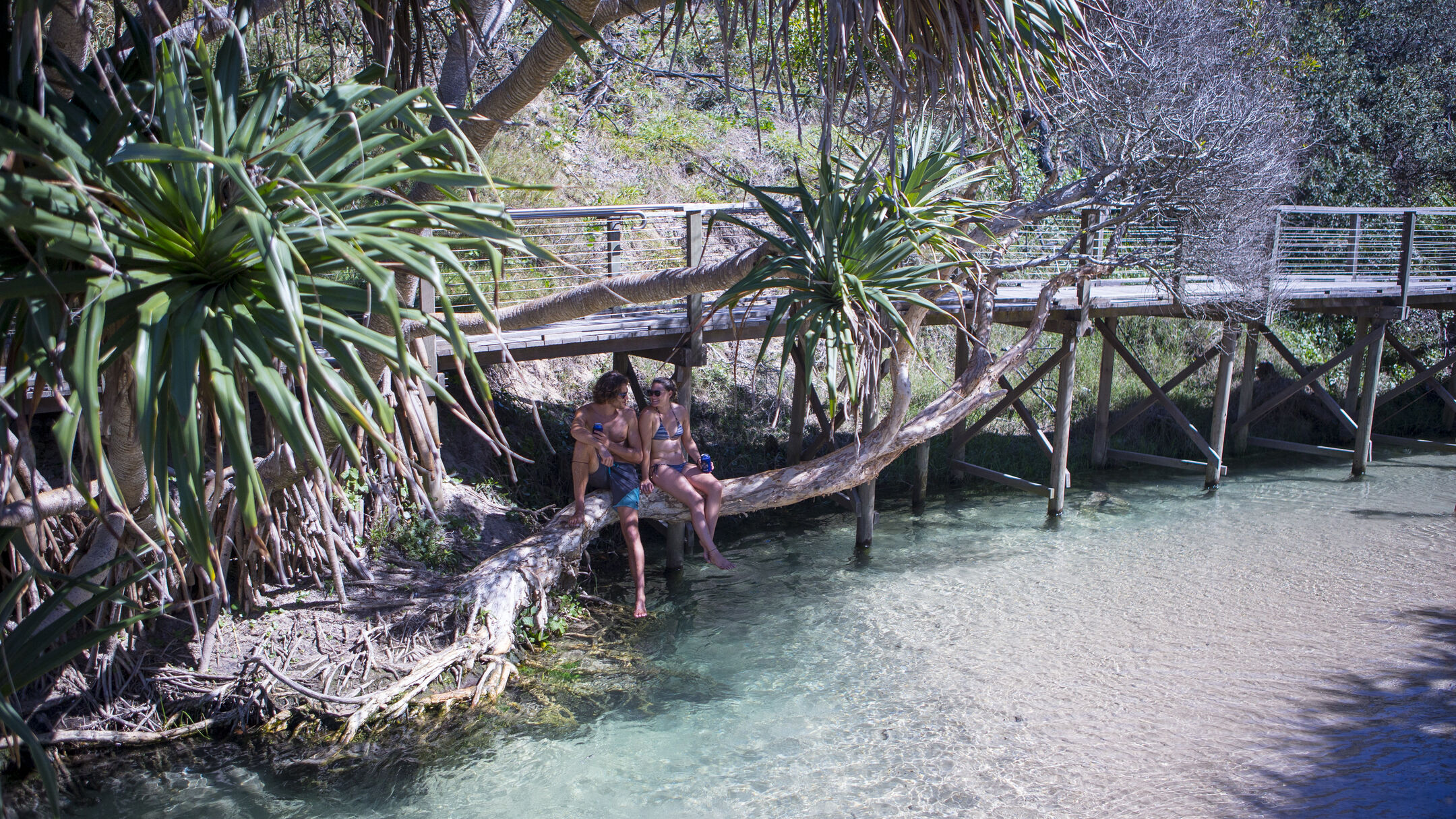 From $2290.00 per adult
Extended Luxury Stay
Hide away in paradise with your loved one, and experience the best Fraser Island has to offer. Over 6 days you will discover the wild things on your personalised 4WD tour, bask in the iconic golden glow across the Great Sandy Strait on your sunset cruise and captivate your senses with a luxurious couples massage at the Island Day Spa.
Inclusions
Return passenger ferry transfers from River Heads (Hervey Bay) to Fraser Island
5 nights at Kingfisher Bay Resort in a King Bay Resort Room, including breakfast daily
Full day personalised 4WD tour of the island with a private guide, including picnic lunch
Sunset cheese platter and drink voucher at the Sunset Bar
50 minutes Couple Massage at the Island Day Spa
Sunset Cruise on the Sea Explorer including complimentary alcoholic beverage
Itinerary
Day 1 – Ferry to Fraser Island
On arrival at Hervey Bay Airport, make your own way to River Heads terminal for your Kingfisher Bay Ferry crossing to Fraser Island. With up to 4 services per day, the ferry is equipped with access to a fully licensed bar and snack food is available on your 50 minute journey.
Once on Fraser Island, jump on the Resort Shuttle or take the short five minute walk up to Reception to check in. The rest of the day is at your leisure.
Tonight you may like to chill out at the Sunset Bar and enjoy the view as you sip on a refreshing cocktail – a perfect way to start your holiday in paradise!
Overnight: Kingfisher Bay Resort, 5 nights
Note: If you require flights to Hervey Bay, our Travel Specialists have access to some of the best airfares available so we can help you get a great deal by booking your flights on your behalf. We can also assist you with transfers from the airport to River Heads for your ferry service. Contact us on 1300 765 115 to discuss.
Day 2 to 4 - Fraser Island (B)
The next couple of days are for relaxing and for you to do as much or as little as you please.
Join one of the many Ranger-guided walks and talks to learn about the island's wilderness and native species. The walks vary each week, and many of them are complimentary, with topics ranging from Bush Tucker and Bush Medicine to the island's European History, and the dingoes on the island.
Laze on one of the beach bean bags and enjoy the view, or kick back on a deck chair with a good book at one of the four pools dotted around the resort. Take some time out at the Island Day Spa and enjoy your couples massage – the trained therapists are on hand to deliver a range of nourishing treatments and massages designed to relax and rejuvenate.
In the evening, head to the newly launched Sand & Wood restaurant for dinner. Adopting a shared platter concept, you will be treated to an extensive culinary offering, drawing on unique flavours and influences from Australia, Asia and the Pacific.
On another evening head down to the Kingfisher Bay Resort jetty to join your Sunset Session aboard the Sea Explorer. Enjoy the ultimate 'sunset chill' experience as you sip on your drink and relax with new friends, as the sun dips below the horizon.
Day 5 - Personalised 4WD Guided Tour (B, L)
Today pack your sense of adventure, along with some sunscreen, swimwear and a camera, and head out to see some of the natural attractions on the island. With approximately 1200km of tracks on Fraser Island, there are plenty of spots waiting to be discovered off-road by 4WD. And as it is only you and your guide, the day is yours to plan and enjoy.
Highlights can include finding a private lake to explore; pausing in a rainforest valley to soak up the sounds of silence or birdsong; swim with fish in the bubbly Champagne tidal pools; or just watching turtles at play in the lakes.
With a picnic lunch included, you will avoid the crowds, and by using your guide's local knowledge, can travel at your own pace, to find a special spot on Fraser all to yourself!
Day 6 – Fraser Island to Hervey Bay (B)
Today join that last walk and talk session you may not have been able to fit in earlier or enjoy a late breakfast before checking out.
Depart Fraser Island on a ferry time suitable for you, in order to connect up with your flight home. Or perhaps you may like to extend your stay on the mainland and explore of Hervey Bay and the Queensland coast.
Want to extend your stay in Queensland to see more?
Why not explore more of QLD with one of our other travel packages.
Call our Travel Specialists on 1300 765 115 to enquire about details or options to extend your stay in Queensland.
From $2290pp*
CONDITIONS: Price is valid for travel from 01 March 2021 to 31 March 2022, and is per person based on twin share. $600 deposit is required on booking, and final payment is due at least 45 days prior to travel. Black out dates apply for King Fisher Bay Resort from 01 - 04 April 2021 and 23 December 2021 – 09 January 2022. Strict cancellation conditions apply and insurance is strongly recommended.