Murray Princess 3 Night Discovery Cruise (Outside Cabin)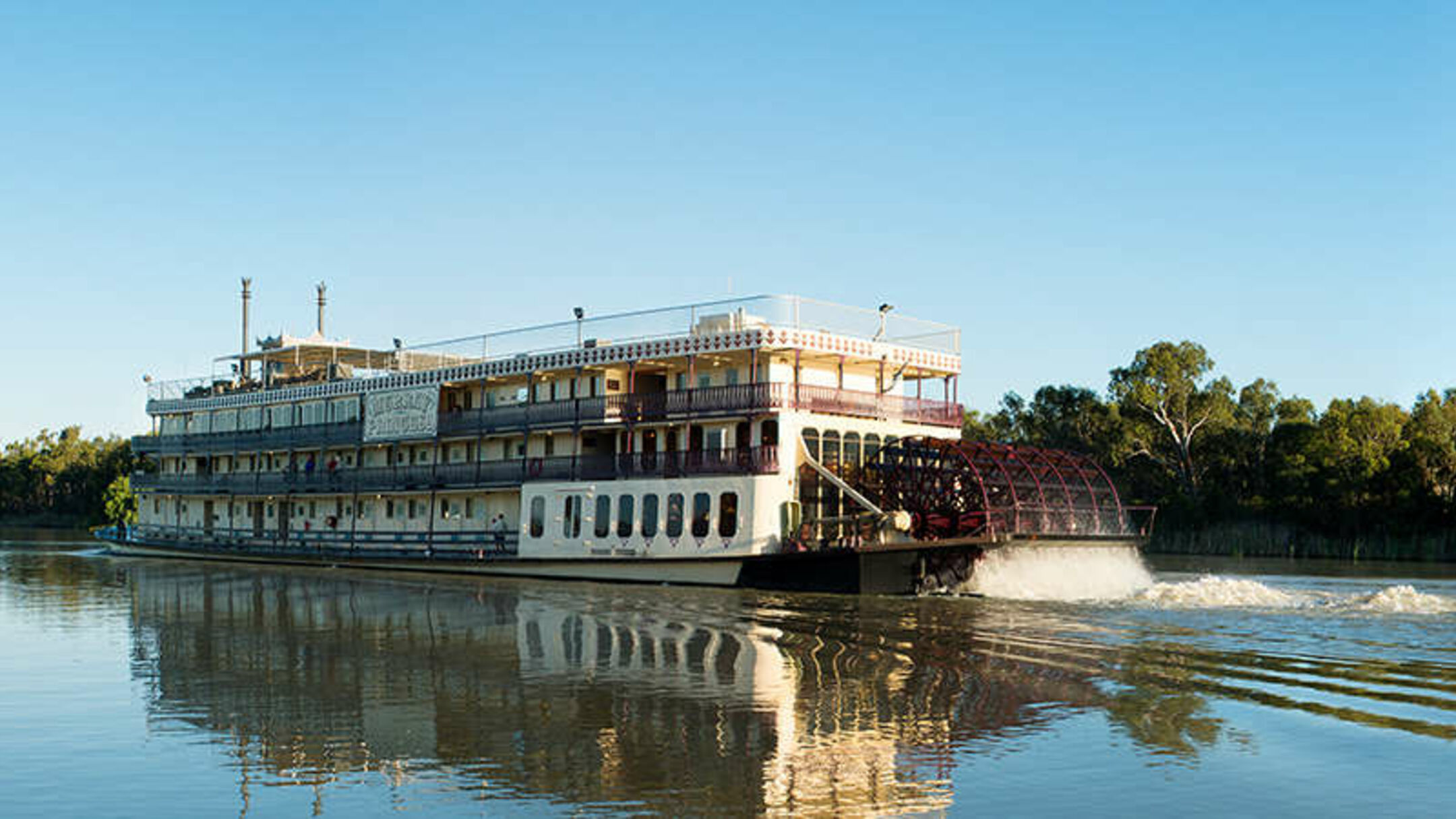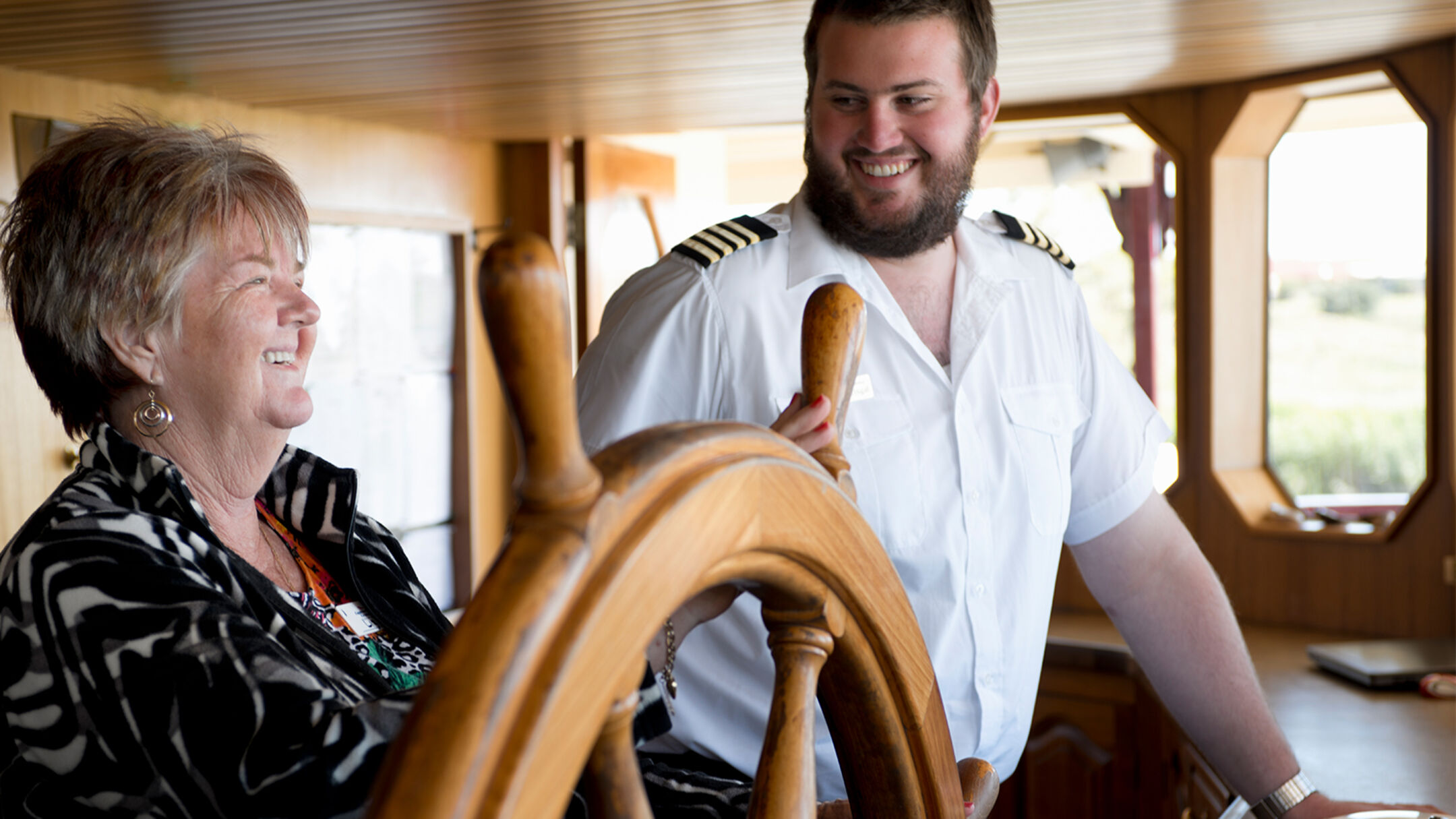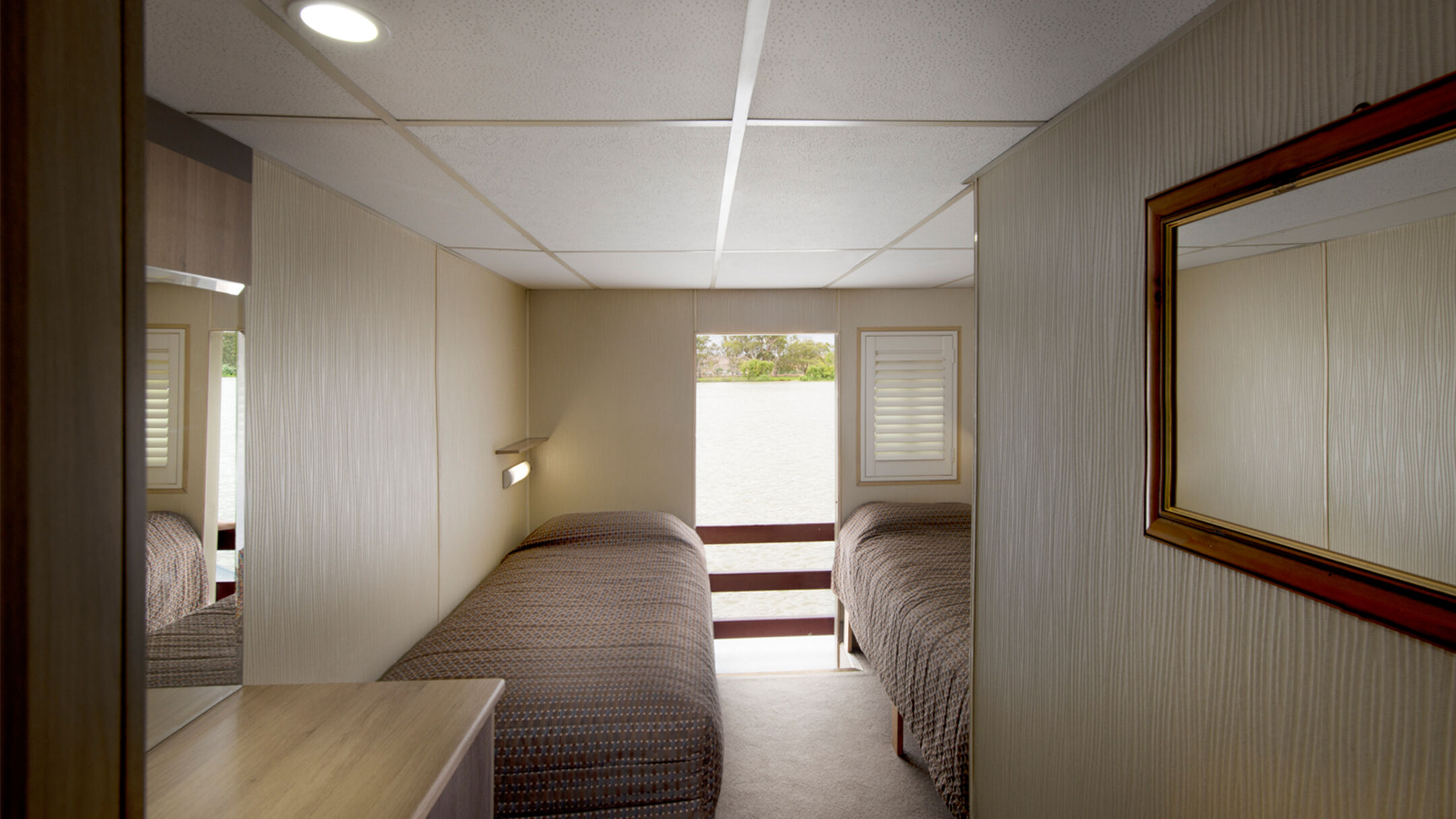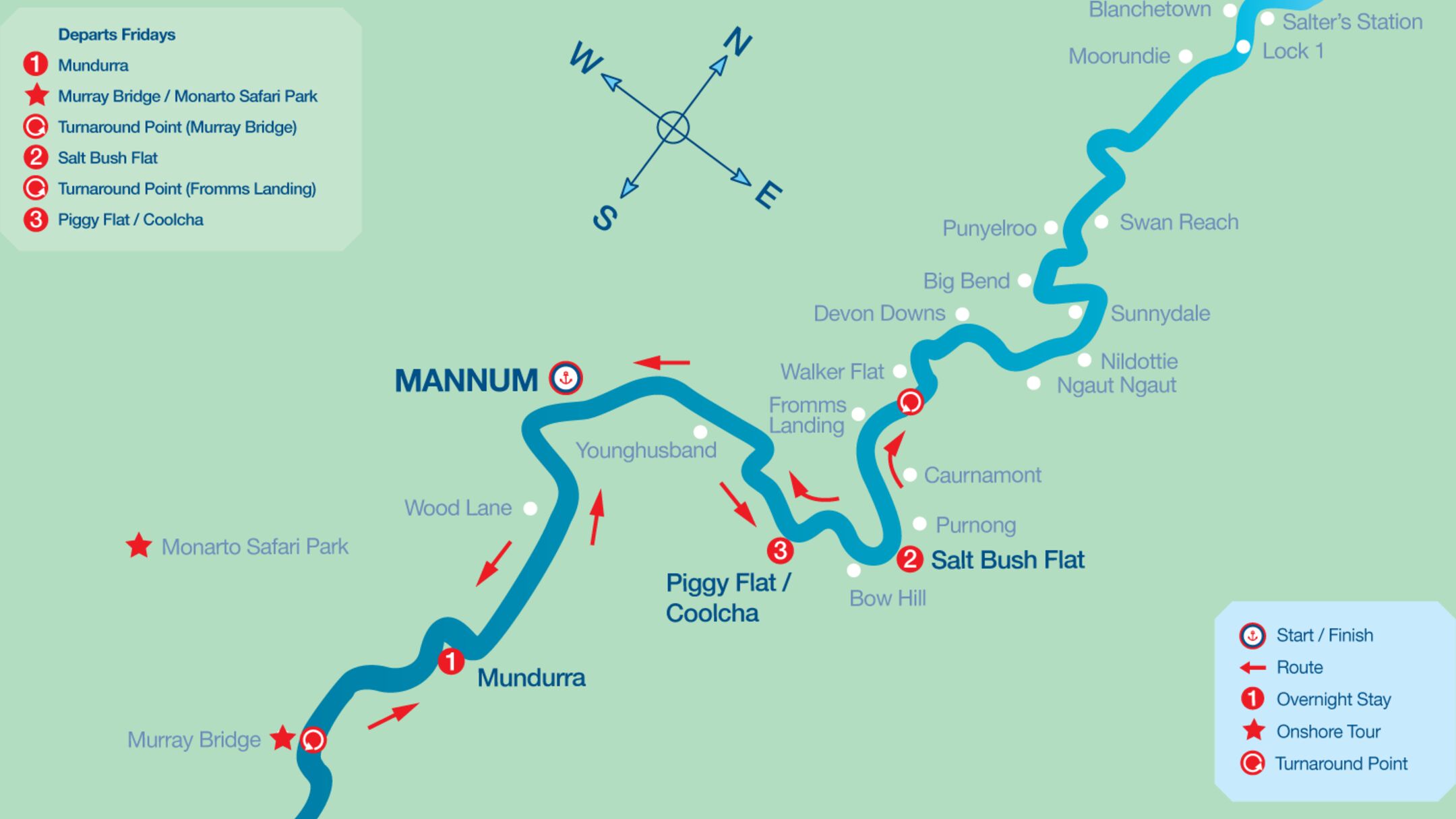 Price from: $1449.00
Additional Information
From price is based on Standard Brochure Fares, valid for travel until 31/03/23. Prices may vary when booking to travel after 1st April 2023.
Important Note: All guests are required to be fully vaccinated against COVID-19, and are required to have a negative Rapid Antigen Self-Test (RAT) taken on the morning of cruise departure. Tests are to be acquired at guests' own expense for self-testing. Please refer to the Travel Update information on the Murray Princess website.
A short introduction to the beautiful historic Murray River between Walker Flat and Murray Bridge. Aboard the paddlewheeler Murray Princess, you will cruise through spectacular riverlands and enjoy the great variety of flora and fauna. You'll take a nature walk, get up close to the river birdlife on board the 'Dragon-Fly' flat-bottomed boat, visit the township of Murray Bridge and learn about the food and wine of this famous region.
DURATION/OPERATES: 4 days / 3 nights, departs selected Fridays
DEPARTS: Day 1: Selected Fridays - Cruise Departs Mannum at 4:30pm (Boarding from 2:30pm)
Complimentary Coach Transfers depart Adelaide CBD from 1:20pm
RETURNS: Day 4: The following Monday – Cruise returns to Mannum at 9.00am
Complimentary Coach Transfers arrive in Adelaide at approx. 11am – 11:30am or 12pm Adelaide Airport or 5:30pm after optional Barossa Wine and Heritage tour or 6pm Adelaide Airport.
IMPORTANT NOTE: Please phone Murray Princess reservations on 1300 729 938 to reconfirm your pick up and drop off locations 48 hours prior to travelling.
3 NIGHT DISCOVERY CRUISE HIGHLIGHTS:
- Free time to explore the township of Murray Bridge or take a tour of the historic Roundhouse
- Optional Monarto Safari Park Wildlife Tour on Saturday departing Murray Bridge (additional cost)
- Guided nature walk at Salt Bush Flat
- Riverland food & wine tasting (A tasting of 2 Reds & 2 White wines & local produce)
- Get up close to the river birdlife on board the 'Dragon-Fly' flat-bottomed boat
- Optional Barossa Wine and Heritage Tour at conclusion of cruise (additional cost)
3 Night Discovery Cruise Itinerary and Map
Departure Dates
22, 29 July 2022
5, 19 August 2022
2, 16, 30 September 2022
7, 21 October 2022
18 November 2022
13, 27 January 2023
17* , 24 February 2023
24, 31 March 2023
*Special Event Cruises
SPECIAL EVENT CRUISES
CHRISTMAS IN JULY CRUISES (Departs 22 July 2022)
BONUS INCLUSIONS: Christmas lunch, festivities and entertainment
'HOT AUGUST NIGHT' MUSIC CRUISE (Departs 19 August 2022)
SPECIAL EVENT ITINERARY & SURCHARGES APPLICABLE
'COUNTRY CRUISIN' MUSIC CRUISE (Departs 17 February 2023)
SPECIAL EVENT ITINERARY & SURCHARGES APPLICABLE
Itinerary
SAMPLE ITINERARY: (3 Night Discovery Cruise)
Friday: Mid-afternoon the Murray Princess departs historic Mannum, birthplace of the Murray River trade and communication, and heads downriver while you enjoy pre-dinner drinks and a Welcome Dinner.
As we cruise under floodlight to our overnight mooring at Mundurra you may see nocturnal wildlife on the riverbank. Watch for kangaroos, hairy-nosed wombats, tortoises, egrets and many other species. Our on-board entertainer provides music for the night owls.
Saturday: In 1879 the first bridge to span the Murray River was built at Edwards Crossing, which quickly became the bustling township of Murray Bridge. After a hearty breakfast, choose to join a guided tour of the town's historic landmarks and local attractions or go on a wildlife tour at Monarto Safari Park (additional cost).
Those who choose to experience Monarto Safari Park will arrive back on board the Murray Princess in time for lunch then join us in the Sturt Dining Room for a special presentation on the bounty of food and wine produced in the Riverland.
This afternoon, we continue our journey upriver and tonight we moor at Salt Bush Flat. After dinner, enjoy being entertained by our talented crew.
Sunday: All ashore for the guided nature walk where your guide will share the secrets of the local flora and fauna. It's a great way to get in a little exercise before Murray Princess departs for the big river gorges and 90 metre cliffs of the upper river.
Mid-morning, join us in the Sturt Dining room for a special presentation on the bounty of food and wine produced in the Riverland.
Just after Fromms Landing, we turn and head downriver to River View Lodge (near Piggy Flat / Coolcha) where your discovery vessel awaits for a wildlife tour. Travelling in small, personalised groups, we explore the maze of the river and the birdlife is amazing. Watch for darters, herons and egrets feeding along the river's muddy edges.
The afternoon offers a choice of bocce or fishing challenges before a delicious final night dinner in the Sturt Dining Room.
Monday: We head back to Mannum and after breakfast, we reluctantly say farewell as we arrive at the Mannum Wharf.
PLEASE NOTE: This is a sample itinerary and is subject to change without notice.
OPTIONAL MONARTO SAFARI PARK WILDLIFE TOUR (additional cost):
On arrival at Murray Bridge on Saturday (from 9:00am) the Wild Awaits and a coach will transfer you to Monarto Safari Park. Explore one of the world's largest open-range Safari Park experiences outside of Africa on an unforgettable guided tour from the luxury of your coach.
Monarto Safari Park spans more than 1500 hectares and is home to many exotic and native animals including Cheetah, Hyena, Painted Dogs, Giraffe, Zebra, Black and White Rhino, Deer, Antelope, Bison, Mongolian Horse and Australia's largest lion pride to name but a few.
After the tour, you will have some free time in the new Visitor Centre, gift shop, lookout, and café before returning to Murray Bridge to re-board the Murray Princess in time for lunch at 11:25am.
OPTIONAL BAROSSA WINE & HERITAGE TOUR (additional cost):
Discover Australia's richest and best known wine making region – the Barossa. Depart Mannum by coach to the famous Barossa, the beautiful 'valley of the vine' and the source of about a quarter of Australia's world-renowned wines.
Your first stop is at Jacob's Creek Visitor Centre, where you will enjoy a light morning tea while taking in the breath-taking views over the vineyards. You will have the opportunity to participate in a structured wine tasting before departing and heading to Lambert Estate in Angaston for lunch.
Enjoy a two-course lunch at Lambert Estate, incorporating fresh regional produce available in season. Pair this with a glass of wine (own cost) and take in the magnificent outlook from the deck of this popular vineyard.
Next visit Maggie Beer's Farm Shop, and learn about Maggie and her story, as well as the history behind the Farm. You'll have an opportunity to taste some delicious Maggie Beer and Pheasant Farm products and take a photo in her famous kitchen. If time permits, purchase some afternoon tea from the cafe (own expense) and take in the peaceful surrounds of the lake and resident birdlife.
Following Maggie Beer's, you'll make your way by coach through the picturesque regions of Seppeltsfield and Marananga which is home to many iconic cellar doors. No trip to the Barossa is complete without visiting Seppeltsfield Road which is full of history and lined with distinctive palm trees.
Sit back, relax and enjoy the scenery as you travel back through the picturesque Eden Valley. View the Murrayland flats from atop Palmer hill as you descend into Mannum where you will re-board the Murray Princess, or journey back to Adelaide arriving at approximately 5.30pm or Adelaide Airport at approximately 6.00pm.
Please complete the Passenger Cruise Contract and Special Dietary & Allergy Information Form within 48 hours of confirming your booking.
Please refer to the Passenger Cruising Guide for more information.
Helpful Links